There is a portuguese version of this post here.
I am a big fan of the Karl Popper's philosophy of science, so I decided to write something about what I find interesting in his philosophy, especially in relation to rational criticism, to talk later a little bit of what I think about this in relation to Evolutionary Algorithms (EAs).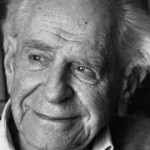 Popper, in his book "In Search of a Better World" (the original title is "Auf der Suche nach einer besseren Welt"), cites the importance of rational criticism in science and combat the dogmatism of belief in the scientific authority. For me, this idea, despite intrinsic in the thoughts of many philosophers, was not so clearly exposed as Popper did, the clarity with how Popper gives us the insight about how the science grows and improves through rational criticism is remarkable, and I'll try to summarize here what he tried to explain for almost whole life.